By: John Russell
The fruits of our labor during the Nobody '08 unregisteration drive have finally come to fruition. As many of you already know, in response to the disinformation and irrationalities of the cult of the vote, the UNR Students for Liberty launched the Nobody '08 campaign where we set up a table right next to the Obamabot table and unregistered people who were willing.
As of this week, the grinding gears of bureaucracy in the Nevada Registrar of Voters have finally produced the letter with what we were seeking: a confirmation of unregistration. My roommate participated in the drive, and as of last week, received this letter: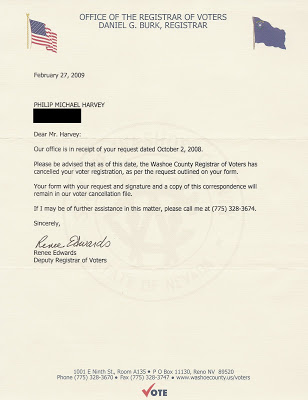 If you would also like to unregister to vote, follow these steps:
1) Write a personal letter justifying why you should not vote. We had participants sign this:
Dear [county election officer]




I am a registered voter of Nevada who would like to rectify that. First, let me say that I take my duties and responsibilities as a citizen seriously and want to do what is best for my community as well as me. With that said, I believe that the responsible thing to do is to have my name removed as a registered voter. I do not have the time, interest nor ability to stay appraised of the candidates and issues that I will have to vote on. I feel removing my ability to vote will be more effective in accomplishing this than placing the onus on myself to just not vote. Most likely the temptation to vote that will be instilled in me by MTV and various commercials over the coming months will be too much for me, and I will end up casting a vote on a issues and candidates that I am, at best, totally ignorant of.




I know that I can't count on myself to just not vote and would instead like to prevent myself from ignorantly voting by removing my name as a registered voter.

So, in short of committing a felony, can you please unregister me to vote?




Thank you for your assistance,
2) Include with the letter a half sheet detailing all your information:
Full Name (First, Middle, Last)

Current Political Affiliation
3) Send these two documents to your county registrar of voters office.
4) Wait approximately 4-6 months for the government to process your request. Voila!
As a final word of advice, do NOT pass the time waiting for the letter of confirmation by placing a sad face inside an Obamabot's chalking creation without serious ramifications and warnings from about 10 separate departments on any given university.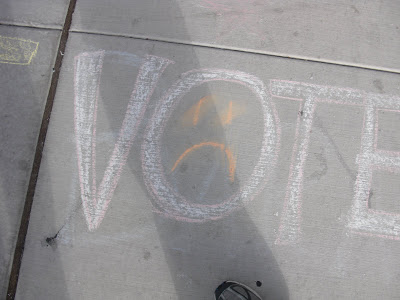 Example of a mortal sin